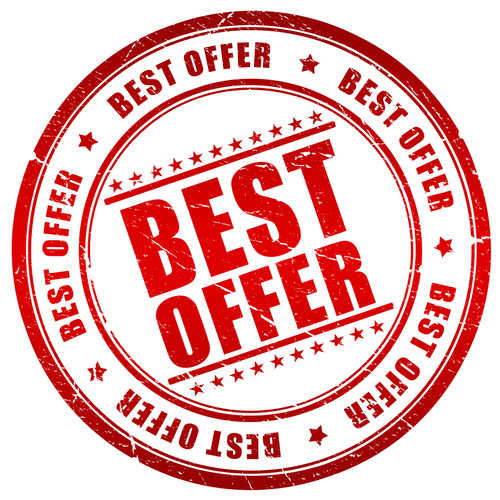 The market for freehold homes in Toronto is extremely competitive and has been for some time now. A lack of inventory and steady demand so far in 2014 has led to multiple offers on the majority of houses in and around downtown.
This is very frustrating for home buyers, particularly those looking to buy into the Toronto market for the first time. It's frustrating for us as well, it's not fun explaining to new clients that the house they found listed at $499,000 is likely to sell for closer to $600,000.
However frustrating, this is the reality of the market right now and I don't see it changing anytime soon. So, rather than giving up and moving to Oshawa – follow this advice on how to win in multiple offers.
Don't get caught up on the list price. Sometimes a property is significantly underpriced in order to generate interest. Other times a property is priced at what the listing agent/sellers believe to be market value but they underestimate the strength of the market. Either way, current market value is what you need to focus on. Examine recent comparable sales in the area but recognize that there have been significant price increases recently. A comparable from even six months ago is old news – your agent should be able to make adjustments accordingly.

Be prepared to make an offer with no conditions. Unless your offer is firm you have next to no chance. A seller will almost never risk a sale falling through on a conditional offer if there is a firm offer on the table. Deal with financing and a home inspection prior to coming forward on offer date. Get preapproved for financing pronto. If you have a good lender/mortgage broker they should be able to run a potential property through their system prior to you making an offer on it. This is very important, we've heard horror stories about properties purchased with no financing condition not appraising out.

Often times a house will have a pre listing home inspection already completed. If they do review it and determine if you are satisfied with the scope of the already completed inspection. If you are not, or if there was never one done – consider paying for your own inspection prior to the offer date. This means an initial outlay of cash but peace of mind knowing you are making an informed decision.

Have your agent bring in proof that you have financing and will be able to close the transaction. A letter from your bank or broker can go a long way in reassuring the seller. Not a lot of people do this, it's an advantage not to be overlooked.

Come in with a healthy deposit. This will also reassure the seller of your financial covenant and could make the difference if a few different offers are close. A 5 percent deposit is considered a good deposit in Toronto. Have your agent present a bank draft or certified cheque along with the offer. 

Arm your agent with some personal information about you and consider writing the sellers a handwritten letter about how much you love the house. At the end of the day money talks, but if you are close in price humanizing yourself in the sellers eyes might seal the deal.

Know when to fold 'em. Sometimes it may not be worth moving forward on a house you'd otherwise like to offer on. If it's priced near the max of your budget and there are 17 offers on the property, chances are you will get blown out of the water. Another offer will only serve to increase the eventual sale price by that much more. You will risk further inflating prices in the immediate area – presumably an area you'd like to buy into. This, of course, is absolutely your decision and we always respect our clients decisions and follow their direction after giving our best advice.

Work with an agent you trust and has experience working with buyers in the ultra competitive Toronto market. Like us.

Want to talk about it? Get in touch.

Nicholas Humphries: 416-526-2791, nick@nickandhilary.com
Hilary Browning: 416-735-4665, hilary@nickandhilary.com