Meet 384 1/2 Sumach Street
This is property is now sold.
There's a house in Cabbagetown that most locals don't even know about. Down a cobbled path laid with the bricks of yesteryear Toronto and through a gate you come upon a handsome Victorian cottage set within a secret perennial garden.
Centered around a wood burning fireplace, the living room is both impressive and welcoming with a two-storey vaulted ceiling flooding the space with sunlight from the skylights above.
Custom built-in bookcase soar ten feet high while the room is anchored by refinished wide plank pine floors.
Opposite, the kitchen's factory style window reaches floor to ceiling. In-floor heating under a classic black-and-white penny tile keeps you toasty in the winter months and in the summer you'll love the walk-out to the gas barbecue and side deck.
The open concept dining area has room for a large table to entertain with exposed beams overhead and windows overlooking the porch.
Upstairs, you'll find another wood burning fireplace in the loft-style master bedroom. Have a seat on one of the two window seats overlooking the garden with south views over leafy Caggabetown to the CN Tower. The second bedroom is light and bright, tucked among the treetops.
With heated floors and excellent ceiling height, this finished basement actually has character!
The walkout to the yard is both practical and allows for additional light. Completed by a second bathroom, laundry room, built-in shelving and clever storage there are endless ways to utilize the space.
One of the earliest houses in what was then known as Don Vale, it was originally owned by a local bricklayer and built in approximately 1865. This house has witnessed the neighbourhood grow up around it, tucked away in secrete behind one of the most iconic houses in the area.
The sale of 384 1/2 Sumach presents an exceptionally rare opportunity to own a property all but forgotten by the city around it.
Address: 384 1/2 Sumach St.
Asking: $1,249,000
Possession: Mid September
Property Taxes: $6,186.64
Type: Detached
Storeys: 2
Bedrooms: 2
Bathrooms: 2 Full
Parking: 1 parking space on site, accessed through gate on Rawlings Ave.
MLS:C4490677
Significant Renovations
2002: Removal of insulbrick and installation of wooden siding on west side of property. Rebuilding of porch elements and repainting of exterior.
2013: Restructuring of North wall, rear bedroom, upstairs bathroom. Damp proofing. New roof. Skylights installed. Internal structural reinforcement. Floor refinishing and internal painting.
2015: Three upper windows custom built and installed with new pediments and copper flashing. New shingling around windows.
2018: Installation of new AC unit and furnace.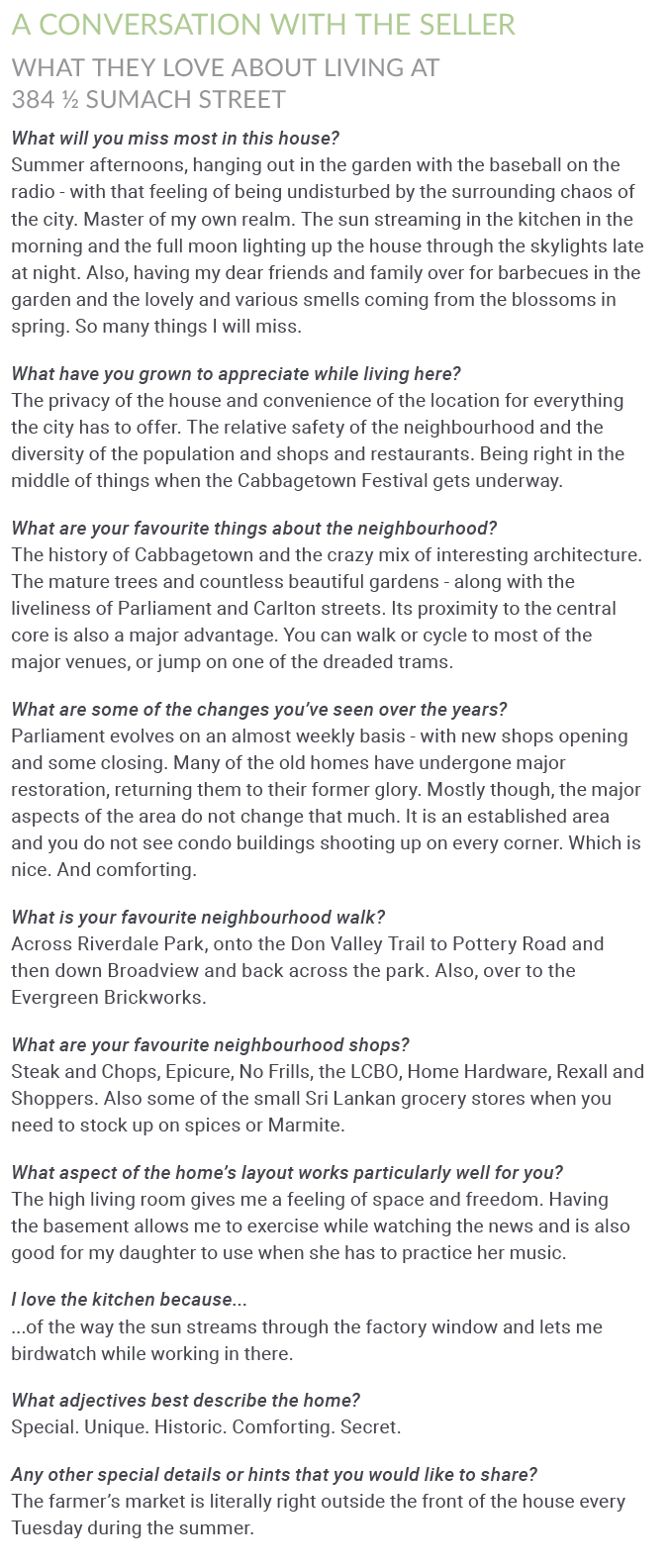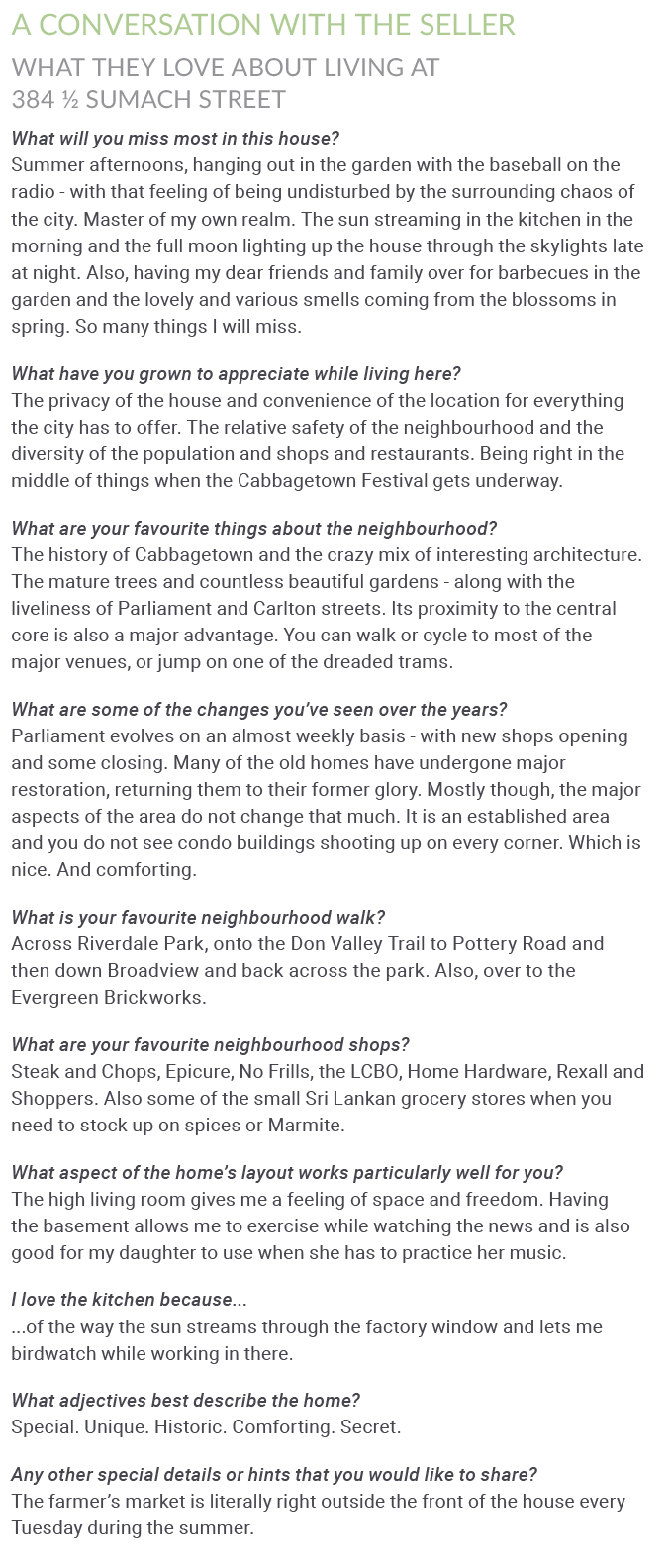 Arrange a viewing or request more info: info@nickandhilary.com
Call or text us: 416-735-4665