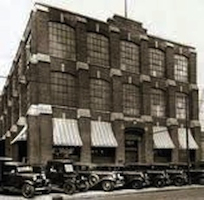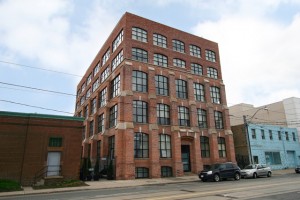 Address: 736 Dundas St E, Toronto
Neighbourhood: Regent Park
Past Life: Soap, Cigars, and though it is questioned, a Tannery.
Year Built: 1905
Year Converted: 2007
Number of Stories: 6
Number of Units: 40
Why is it special? Some hard lofts are all about the concrete (floors, columns), this one is all about wood. Wood ceilings and massive wood beams are a key feature of the Tannery Lofts. Some of those huge beams show faint charring from a past fire. Cool. The building also features 13 foot ceilings, huge windows, 1 and 2 storey units (variety!) and some special units have either a terrace or a roof-top deck. This development took the existing building and added a nice new hat to it with additional units, mixing the old and the new. Fortunately, the additional levels are very well executed and blend in so well some people don't even notice.
There's a whole lotta activity going on in this part of of the city. Regent Park, as you've likely heard, is going through a revitalization. The squat, unattractive community housing that's been there for 60+years is being torn down and a new mix of condos, social housing, parks and rec facilities are sprouting in its place. In short, the cool kids are moving to town. It might not be much to look at now, but with the DVP on-ramp less than a minute away, streetcar at your door and the Don Valley Trail network beckoning you to expore, this area has a lot to offer.
Below is what's available now. Get in touch if anything tickles your fancy.
Nicholas Humphries 416-526-2791, nick@nickandhilary.com
Hilary Browning 416-735-4665, hilary@nickandhilary.com
Create an account to view all current MLS Listings. Due to regulations beyond our control search results are limited if not logged in.