Posted on September 4, 2013 in Lofts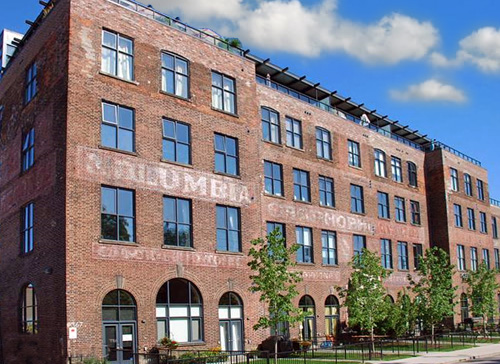 Address: 363 and 369 Sorauren Ave
Neighbourhood: Roncesvalles
Past Life: Candy Manufacturing Plant
Year Built: 1907 ish
Year Converted: 2007, includes a new soft loft extension at rear of building.
Number of Stories: 6
Number of Units: 153
Why is it special? There are some fantasticly interesting units in the building – our favourites are the ground floor, two level gems with private courtyard entrances.
The Robert Watson Lofts feature all the exposed brick, beam and wood ceilings that you can shake a stick at. Plus the building looks incredible from the street so you can impress your friends before you even open the door.
Roncesvalles is a cool 'hood too; in fact I'm pretty sure it's mandatory that an awesome new restaurant or bar open every month.
Below is for sale now. Get in touch if anything floats your boat.
Nicholas Humphries 416-526-2791, nick@nickandhilary.com
Hilary Browning 416-735-4665, hilary@nickandhilary.com
Create an account to view all current MLS Listings. Due to regulations beyond our control search results are limited if not logged in.